Welcome to a comprehensive guide on packing essentials for your unforgettable journey into the heart of the Amazon at Leticia. In this article, we'll provide you with the best recommendations for what to bring on your adventure into this pristine natural wonder. From navigating the jungle trails to cruising the Amazonian waters, we've got you covered.
Recommendations for Your Experience in Leticia, Amazonas
Nestled in the heart of the Amazon rainforest, Leticia is an ecological paradise inviting you to explore the magic of the jungle and the fascinating Triple Frontier. To make the most of your trip to the Amazon, we recommend avoiding excessive luggage. A 35 to 40-liter bag will more than suffice for your thrilling excursion.
Explore the Jungle: What Do You Need for a Jungle Tour?
When venturing on a jungle tour, certain essentials are paramount. These include rubber boots or wellingtons, lightweight pants (avoiding jeans), non-irritating underwear, a long-sleeved shirt (preferably the fisherman type like Columbia), sufficient hydration, a dry bag to protect your electronic devices, a hat, extra water, and, above all, a rain poncho. Don't forget to carry repellent to keep those pesky insects at bay. Additionally, a flashlight is crucial for jungle trekkings, and having your phone's flashlight as a backup is always a smart precaution.
Navigating the Waters of the Amazon
For boat tours, lightweight clothing is key. Convertible pants into shorts are practical and versatile. Additionally, wearing a long-sleeved shirt is fundamental to protect yourself from sunburn, as well as a hat to shield from the sun's rays. If you plan to swim during your adventure, bring a swimsuit. Prepare for rain by wearing quick-drying clothes and a rain poncho. It's also wise to protect your electronic devices in a dry bag. Always insist on a life jacket and never wear rubber boots on a boat for safety reasons.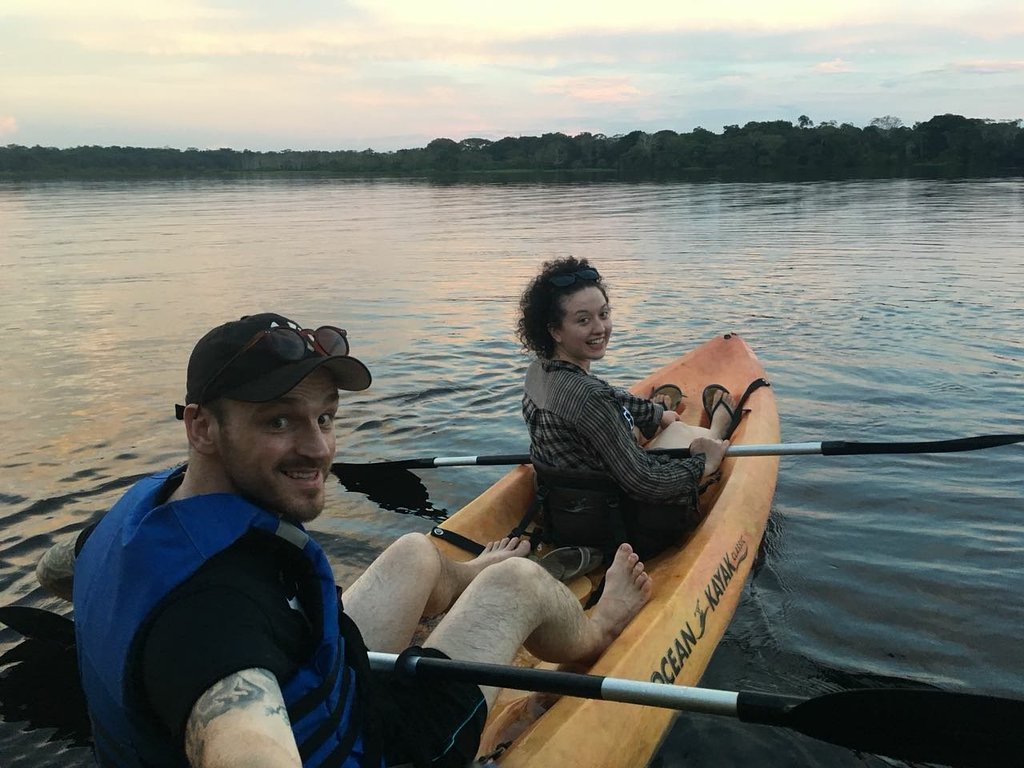 Your Essential Kit for Adventure in Leticia, Amazonas
In summary, when exploring the jungle and embarking on hikes, it's best to opt for long sleeves and long pants. Rubber boots are a must for jungle hikes to ensure a comfortable and safe journey. Always carry hydration and a rain poncho, and remember to use dry bags to protect your electronic devices.
On the other hand, for urban adventures, shorts are sufficient and provide comfort for city exploration. Don't forget to pack your hat to shield yourself from the sun's intensity.
What to Bring on Your Amazon Rainforest Tour
When it comes to packing for your Amazon rainforest tour, a small backpack (25-30L) will suffice for a 3 to 4-day adventure. Here's a comprehensive list of what to pack:
Appropriate Clothing: Include 2 long-sleeved shirts, 2 short-sleeved shirts, 1 pair of shorts, 2 or 3 long pants, socks, and underwear for a 4-day trip.
Footwear: Opt for boots/shoes suitable for walking, and also bring flip-flops for relaxation. Rubber boots are a must for jungle trekkings.
Other Essentials: Don't forget your swimsuit, towel, toiletries, repellent, sunscreen, sunglasses, camera/phone with a waterproof case, snacks, non-alcoholic beverages, wallet, and identification.
For an authentic and unforgettable adventure in Leticia Amazonas, Amazonas Jungle Tours is your best choice. Immerse yourself in the marvels of the Amazon rainforest, and let the journey of a lifetime begin.